Product details of New Sony PlayStation 4 Slim PS4 Console500GB[1YearSEAOfficialWarranty]
Play. Redesigned.
Experience a sleeker, smaller PS4, delivering awesome gaming power that's always for the players.


The new look, slimmer PS4
Experience incredibly vivid, vibrant colours with breathtaking HDR visuals.
Organise your games and apps and share with friends from a new, intuitive interface.
Store your games, apps, screenshots and videos with 500GB and 1TB options.
All the greatest TV, movies and more from your favourite entertainment apps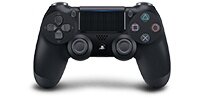 Unparalleled control
The DUALSHOCK 4 wireless controller has been updated with a new look and feel, including a more visible, colorful light bar to put even more of the game into your hands. It's the most ergonomic, intuitive PlayStation controller we've ever designed.


The greatest games are on PS4
Whether you play on PS4 or PS4 Pro, the biggest blockbusters, incredible PlayStation exclusives and most immersive games are waiting for you.


The most connected console
The freedom to play, share and socialise with your gaming world.